FRANKLIN, Mass., Sept. 25, 2017 /PRNewswire/ — Cold Chain Technologies (CCT), the Global leader in temperature-controlled distribution solutions for the life sciences supply chain, launched the industry's first pallet cover system with integrated phase change material (PCM) – KoolTemp® GTS Enshield.
GTS Enshield is a freight-efficient solution that combines the insulation and easy pack-out of a pallet cover with the temperature regulating benefits of CCT's Koolit® Advanced PCM Gel, which are integrated in the cover.
"Companies that produce temperature-sensitive biopharmaceuticals and other therapies now have a new way to protect their products during shipping," added T.J. Rizzo, Senior Vice President, Global Commercial Operations, CCT.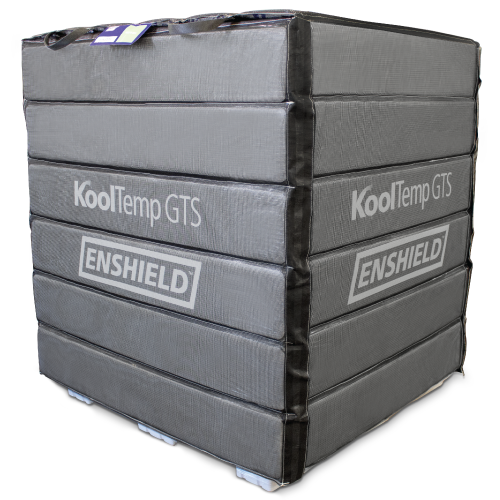 "The GTS Enshield provides the flexibility, simple pack-out, and freight efficiency of a pallet cover, along with temperature control properties that were only available from full pallet container systems in the past. With the GTS Enshield, therapies stay at the right temperature while costs per dose delivered go down, in some cases by as much as 50 percent."The GTS Enshield was designed for pre-palletized product loads up to 50", although it can easily adapt to smaller payloads. Unlike most pallet covers, which work best with wider range room temperature freight, the GTS Enshield can be used in strict 2-8° C, 15-25° C (CRT), and frozen applications.
Each application delivers a different level of PCM protection through the qualified thermal performance of Cold Chain's KoolIt® Advanced PCM Gel refrigerants. The Koolit® Advanced PCM Gel, which
received Global Forum's top 2016 Technological Innovation Award, are embedded directly into the pallet cover making the pack-out a simple three step process. In addition, the cover's insulation properties slow the rate of heat transfer, ensuring optimal temperature regulation during transit.
This enables the GTS Enshield to meet a wide range of air, sea and ground shipping needs, with or without white glove service and/or active sea and air containers. Furthermore, the GTS Enshield's Advanced PCM Gel layer can be reused with minimal inspection and cleaning, as it is protected during shipment by an exterior overlay.
"GTS Enshield's strict temperature control provides a clear advantage for life science companies that have been using conventional pallet covers," continued Rizzo. "Companies that have been relying on shippers can also realize great benefits. They'll be able to fit more product into each shipment while decreasing their overall costs, even with the possible addition of an elevated freight service. This is truly one of our most revolutionary products."
About Cold Chain Technologies
Cold Chain Technologies (CCT) has been a global developer and manufacturer of solutions for the pharmaceutical, biotech, health care, clinical trial distribution and medical device industries for more than 50 years. Today, the world's largest life science companies turn to CCT for complex challenges related to the commercial distribution of drugs to major retail pharmacies, hospitals, wholesalers and distributors.
Shipped from multiple North America, Europe, and Southeast Asia locations, CCT's trusted products include KoolIt® Refrigerants, KoolTemp® Pre‐Qualified Shipping Systems, and KoolTemp® Insulated Containers, available in a wide range of sizes, durations and temperature ranges. Our solutions address every stage of the manufacturing process – from API (active pharmaceutical ingredient), to bulk, to unfinished primary packaging, to final labeling and packaging. CCT ensures improved real-world performance by rigorously testing every product in its ISTA-certified and cGMP-compliant thermal laboratory.
For more information, please visit https://www.coldchaintech.com/product-details/kooltemp-gts-enshield/
CONTACT:
Nicole Stokes
Marketing Communications Manager
Cold Chain Technologies, Inc.
nstokes@coldchaintech.com
508-429-1395 x286